It's a
hyper-connected

world,

make every

interaction

count
Your clients and leads generate data every time they are online, AI gives your business the tools to extract actionable meaning and value from every interaction.
Understand
what makes your customers happy using
Sentiment Analysis
AI development of Natural Language Processing (NLP) and Sentiment Analysis is the key to improving client satisfaction, boosting retention and extending customer loyalty.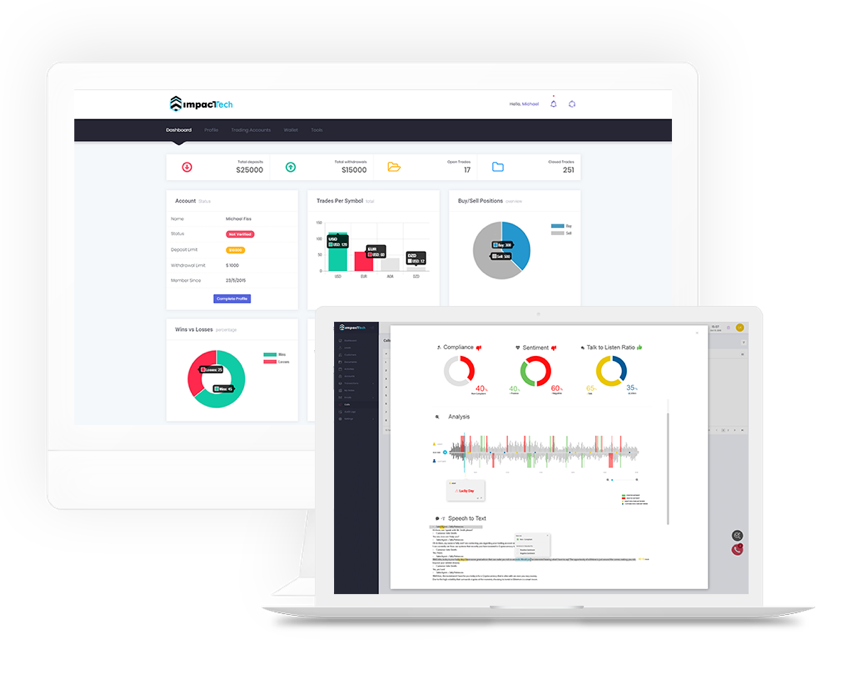 Why your business grows with our platforms
First things first. How do we do it?
Call
A call takes place between a client or lead and an agent. It may be a sales call or it could be from a client seeking support.
Recording
Every call made using the platform is recorded and saved securely. Impact Telecom offers free unlimited recordings for up to one year.
Transcription
Speech to text analysis converts the call to text. Natural Language Processing (NLP) uses syntax analysis to give the text context and meaning.
Sentiment Analysis & Compliance Management
Sentiment Analysis determines the overall mood of the call. NLP and Machine Learning highlight potential compliance issues.
Continual Learning
Words can be tagged manually to accelerate Machine Learning and tailor the platform to the terminology of the industry or territory the business operates.
Predictive Analytics
Better campaigns. Better products. Better sales.
Every business wants to make the most out of their marketing spend. By analysing the success over every campaign, Machine Learning identifies the most successful elements of each campaign so that their effectiveness increases over time. As more data is collected and analysed, predictive analytics reveals which campaigns are the most effective by territory, age group or any other pre-defined metric. This tool can also be applied to gauge the potential success of a new product before it is launched and generates actionable feedback for further product development.
Natural Language Processing (NLP)
Protect and enhance your brand reputation
Every business that is required to follow compliance procedures faces heavy fines and damage to their hard-earned reputation if agents compromise regulations about how services are presented. Natural Language Processing (NLP) can identify when communications infringe regulations. Early identification prevents offence repetition by highlighting the calls with the highest probability of compliance issues and significantly increases the efficiency of the compliance department. In addition to a reduction in fines, fewer employees are needed to monitor communications.
Sentiment Analysis
Know how your customer feels
Happy customers are loyal customers. Loyal customers boost profits and have a greater lifetime value. Sentiment Analysis reveals what makes your customers happy. Impact CRM and Impact Telecom collect and analyse mood data to highlight the keywords that lead to sales. Sentiment Analysis also pinpoints the interactions that lead to client unhappiness and combined with Machine Learning helps a business protect brand reputation by avoiding repetition of the same negative interactions. The platform 'learns' from the mood data collected and becomes more precise in its understanding about what actions result in a happy, loyal client using your feedback through Continual Learning and delivers insights that result in higher converting campaigns.
Big Data Analysis
Turn your team into super agents
Our analytics identify the best sales approaches by highlighting the keywords and the time of day that most frequently results in sales. Other data like the optimal talk/listen ratio and what keywords work best and what to avoid by territory is combined to create clearly defined sales guidelines. As the data set grows, what should and shouldn't be said becomes a template that everyone can use to increase conversions and turn your team into super agents.
COMING SOON
Automated Lead Scoring
Collect data from every channel to increase personalisation
Context analysis and Machine Learning combine to extract value from every client interaction. Collecting communications data from social media channels, emails, chats and phone calls accelerates your ability to personalise future interactions by adding context to each interaction. Over time, a more detailed picture is built which results in higher levels of personalisation. Eventually, the platform will automatically assign leads to agents based on their success rate with similar leads.
Intelligent Chatbot
Meet your most effective 'employee'

Hello, I'd like to work for you.
Our AI-powered chatbot has been engineered to be the most reliable customer-facing 'employee' in your business. It can micro-target and personalise with clients and prospects at scale using conversational AI. It always maintains brand consistency and offers 24/7 availability. It reduces customer response and waiting time and lifts a significant volume of work from employees to allow them to focus on more skilled or creative tasks. Our chatbots don't complain, never overreact, they don't forget their training or need meticulous monitoring.

Clients will engage with me more effectively.
We've taken a hybrid approach to accelerate the effectiveness of our chatbot's responses using rule-based AI and Machine Learning and draw on all the available data your business produces. Our chatbot can be white labelled and operates in any of the channels your business uses including Facebook, Skype, WhatsApp or Messenger. It interacts with customers throughout their entire lifecycle gathering information which improves customer satisfaction by highlighting pain points and which products, features or services are most desirable. Responses can also include direct links to relevant products or services.

I can help your business convert leads more efficiently.
It can recognise input errors and understand the intended meaning using Natural Language Understanding, this also ensures more efficient lead creation because it collects information more efficiently. It will also arrange appointments when clients are sufficiently engaged. Automated Lead Scoring is another feature of the chatbot solution which identifies the best leads and reveals why they are most likely to convert. By focusing on the best leads your sales team will spend more time closing deals rather than chasing them.
Out-of-the-box integration with your favourite products
Scalable API architecture makes integration hassle-free